Mid-Continent Liberty Festival - MidFest
An unorganized gathering for fellowship with kindred spirits seeking a stateless society
Every April and October
Short tour of Camp Copperhead (29Mb mp4 download) 28 March 2023
MidFest may be the liberty festival for you, if the following are too far away: Chillderburg.com (Texas May), PorcFest.com and *ForkFest.party (New Hampshire June-July), Midwest Peace and Liberty Fest at mplfest.org (Michigan July), !!!JackalopeFreedomFestival.com (Arizona July-August), *AnarCon.com (Virginia August) and VonuFest at paznia.com/vonufest (Illinois September)
[* indicates nobody in charge, like MidFest].
[!!! indicates extremely loud raves every night, all night]
Contact MidFest about any other similar campout liberty festivals to be listed here.
Nobody is in charge with spontaneous order established between free individuals. Please consider this dispute resolution process for voluntaryist gatherings to resolve conflicts ourselves.
PLEASE SHARE MidFest.info or Qortal mirror with all your liberty loving friends. Promotion is a totally decentralized effort. The flier to post everywhere is HERE.

Stay as long as you like. No reservations for RV spots and borderless primitive campsites. Cabin reservations are made directly with the camp owners. Enjoy Camp Copperhead (CampCopperheadSpavinaw.com) and the scenic area around starting from whenever until whenever...
Moral Code: The non-aggression principal. This includes pets which, if prone to aggression against others or their pets, are not welcome. Some consider photos and recordings to be a potential threat. So, permission should be asked beforehand.
See the camp owner's rules and pet policy form, mirrored HERE. Any suggestions or concerns should be politely raised with the campground owner at CampCopperheadSpavinaw.com
Participate in the Agorist Market at sellers' campsites with no selling fees or permissions. People trade whatever with their choice of barter, crypto, silver, goldbacks, cash, gifting and other non-bank system payments.

Speakers are welcome. Speaking and discussing at the various campfires is most effective. A schedule may be posted onsite. Someone might bring a sound system.

Musicians bring your acoustic instruments to play at the many campfires. This is NOT a music festival.

Bring what you'll need for overnight temperatures possibly dipping to near freezing.
Most things you might need are 5-minutes away in Langley or the T General Store 1/3 mile away.

No admission cost beyond the campground fees paid to Camp Copperhead.
Nightly $10 Per person. Children 5 and under free.


Cabins: Reserve early for $65/night. Call Copperhead campground for limited availability 918-399-5234
Day passes $5, if being collected at gate. 10 and under are free.
Pool use $10 for everyone not already paying to camp.
See the additional pet fee in the campground's pet policy form , mirrored HERE.
Contact MidFest if any of this needs updating.

Join the Midfest Discussion Groups on Qortal and Telegram to connect with other participants. Please be respectful of others.

Camp details are at CampCopperheadSpavinaw.com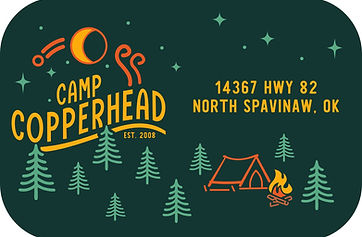 Onsite Amenities:

*Inground Saltwater pool
*poolside Lounging and tables
*Large Covered Pavilion & Bar Area
*Restrooms and Showerhouse
*woodfired Brick Oven & kitchen
*coin op laundry
*stage area
*Mature trees & shaded camping
*spring fed catch & release pond
*utv riding trails
*hiking trails
*water from rural water district

*do not litter - pickup after yourself
*use a fire ring (or rocks are great!) -no fires during burn ban
*Please check in at front ticket office by calling 918-599-5234
*pets are allowed in the campground with pet pass - not in Pool or Bar area - Please read pet policy
*no glass containers in campground
*Good vibes only = no attitudes + no fighting + no weapons
*Pool is subject to close if booked for special events
*Children must be accompanied by parent in pool and bar area